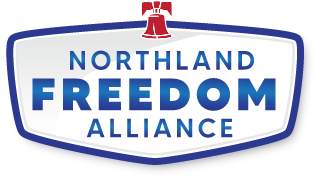 Get Involved Today

Our History
Northland Freedom Alliance is a non-partisan, not-for-profit 501(c)(4) made up of Wisconsinites with the mission to educate and advance our communities through the strength of our constitutional republic to ensure sound government and freedoms prescribed in the Bill of Rights.
The Northland Freedom Alliance, or NFA, was created in 2021 by a group of local patriots and neighbors concerned about the erosion of their freedoms and liberties. Board members and advisors are leaders in their respective communities brought together with a passion to preserve values that make America great.
---

We stand
Free Expression
Ensure our rights which were established in the 1st Amendment of the United States Constitution. We oppose any efforts of big tech, the media and the state to censor alternative points of view of Americans.
Freedom to Assemble
Support the right to peacefully assemble. We oppose any efforts that interfere with our right to petition our government. We will defend religious liberties and the right to gather and worship.
Shall not be Infringed
Being necessary to the security of a free state, we support the right of the people to keep and bear arms.
Health Freedom
Medical freedom and choice for your health. We believe these basic civil rights, including the right to life, extend to the unborn.
Rights of Persons and Property
Stand strong against unreasonable search and seizures. We oppose any registry or efforts of the state that might be used to further erode our rights and liberties.
---